In the age of the smartphone, Jill Park explores why your association needs to take a mobile-first marketing approach when communicating with your members.
Recently the Clinton Library released a picture from 1993 of Hillary Clinton playing a Game Boy, shortly after her husband Bill came became President for his first term.
Hilary, it seems was a bit of a Game Boy fiend back in the day. Her game of choice was Tetris, if the speculation is to be believed.
Fast forward two decades and the same transfixed look can be found on people as they intently play on their smart phones – whether reading emails, tweeting or playing games, today mobile is the dominant screen.
Gone are the days when news was broken in the newspapers and on TV. Mobile is clearly no longer the 'second screen'. Today, social media is the platform where news is broken first and Hillary knows this.
Case in point, her announcement that she will be running for President in 2016. She finally revealed the not so secret, secret in a two-minute video that took social media by storm in April.
The video was simultaneously released on Facebook, Twitter and her campaign website after her donors were first alerted by email.
"And the digital response was swift: within 20 minutes, #Hillary2016 was trending worldwide on Twitter, and her announcement had been retweeted more than 30,000 times," wrote the SMH.
The power of reaching people wherever they are in real time should not be underestimated. Whether you are mounting a political campaign, or simply trying to reach your association's membership, a mobile-first marketing mindset is paramount. Don't believe us? Just ask Google – the tech giant recently rolled out a mobile-friendly algorithm update, rewarding mobile-first web pages with a boost in search ranking.
In 2014, mobile platforms accounted for 60 per cent of total time spent on digital media in the US, reported ComScore in its latest research.
Apps drive the vast majority of media consumption activity on mobile devices, accounting for seven out of every eight minutes, according to 'The U.S. Mobile App Report' also from ComScore.
However, creating a mobile communications strategy is not a case of going out and creating your own app. As Intel's Asia Pacific Creative Director Iayant Murty says: "Mobile apps are a bad place to start, but a good place to end if you're going to make a difference to a consumer's life".
Understanding your audience
More important than frivolously investing in an app is to first understand the mobile needs and consumption habits of your audience. Once you have a clear understanding of these, you can mount your own mobile strategy.
According to our Fourth Annual Member Communications Survey (get it here), published in conjunction with Associations Forum, only 23 per cent of associations surveyed are currently offering mobile experiences to their members.
So where do you start? Google Analytics, or your own CMS will provide analytics, which will let you build a picture of how much of your content is consumed on mobile.
In his article '10 steps to creating a mobile optimized content marketing strategy', Jayson DeMers outlines the key steps to take to understand your audience's mobile habits.
"It's amazing how many conversations about mobile strategies and content marketing in general happen in the absence of audience data," he writes.
Understanding your existing offering
Once you have a firm understanding of your members' existing mobile habits, it's time to assess the quality of the mobile experience your association offers. Here are the key questions to ask yourself:
Do I have a responsive website?
Responsive websites are designed to adapt and optimise the viewing experience to the screen they are being viewed on. It's hard to find a better example of this than wired.com (go on, check it out if you're reading this on your mobile).
Editor-in-Chief Scott Dadich recently wrote an extensive piece about the evolution of the site to a card-based motif design that can adapt to the device. Since he took over in 2012, the site has been rationalised and organised so that the user experience is consistent across different devices.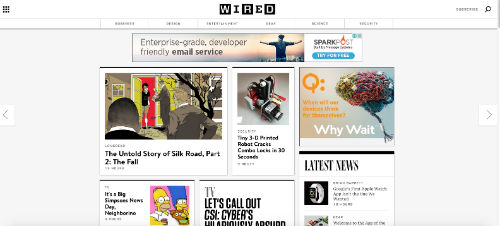 Are my email communications geared to mobile users?
Smartphones mean that we can access our emails wherever we are, that includes your association emails. Having a mobile-friendly email communication should be front of mind.
Firstly, is your email responsive? If users have to pinch and zoom to read the headlines then that's one more step between them and your content. It is not just the delivery platform that needs to be considered, content should also be tailored for the mobile experience in a mobile communications strategy.
Headlines should be short and sharp and to the point. Typically readers are forced to click through to read the full story on the website, but is this a step too far for your readers? Have you considered the GoGet model of newsletter where you include all the content within the body of the email itself? (Also, here's why your current enewsletters suck)
Should I consider a more visual strategy?
According to CISCO, you are four times more likely to look at video on a website than a piece of text. So Hillary's strategy of launching her presidential campaign via a two-minute video on YouTube was a savvy move.
Half of all YouTube views are on mobile devices. Could delivering your content via a video platform allow you to reach more of your members, more immediately? Repurposing some of your content to the medium of video could help you cut through the noise and speak directly to your members.
Here's a little more information on why you should consider a video strategy for your association.
Do I have a social media strategy?
The ultimate goal has always been to seek out your readers wherever they may be. It wasn't a coincidence that Hillary launched her campaign on social media first. Videos are shareable and immediate. Plus, hers was a path first forged by Obama.
Here are a few pointers for your improving (or even starting) your association's social media strategy.
So what's next for mobile?
What impact wearable technology, such as Google Glass and smart watches will have on how people interact with news, email and apps is also still to be seen. We could be at the tip of the iceberg in terms of mobile information consumption.
If associations want to be considered a relevant and valuable part of their members' lives, their platforms, channels and content must all reflect mobile's continuing ascension to the status of the 'dominant screen'.
Hillary's interest in her Game Boy may have been left behind in the nineties, but her dedication to new technologies could take her all the way to the White House – surely a model that your association should follow?